Benefits
Le concentré is beneficial for all hair types.

REPAIR & NOURRISH
Olive Fruit oil is high in antioxidant content and it helps maintain scalp and hair health. It prevents the hair from cell damage, nourishes and conditions the hair at the same time to improve its quality. Our plant based blend oil is rich in nutrients, it will leave your hair smooth and silky, reduce frizz, strengthen.

MIMICS SILICONES
The high content of erucic fatty acid in broccoli seed oil imitate the behaviour and purpose of silicones in hair products. Broccoli seed oil leaves a light film around the hair strand that imparts the hair with shine and lustre and prevents hair frizz.

HEALTHY HAIR
Thyme Leaf Extract, when combined with Rosemary Leaf Extract and our careful blend oil improves the circulation of blood in the scalp and nourishes the hair follicles as well which encourages growth. It Refresh and nourish your hair from roots to ends.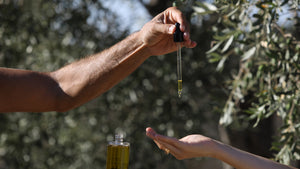 How to use
Le concentré is a plant based multitasking oil

Apply through damp or dry hair. 

BATH IN OIL as a treatment often as possible and even before each shampoo. Rinse thoroughly with clean water, and apply your shampoo.

You can gently MASSAGING your scalp by using our Gua Sha comb or with fingers to activate and improve blood circulation and nourishes the hair follicles to promote healthy and faster hair growth.

You can just TREAT the ends by applying it to the last 2 cm of the strands that are damaged.

Apply EVERY WEEK , le concentré will give your hair a second life. Soft and silky hair, easy to comb. Refresh and nourish from roots to ends.
100% Natural.
Vegan. Cruelty Free.
They contain no parabens, no petroleum mineral oil, no artificial colors.
Recomended products
You might want to take a closer look.