HEALTHY HAIR
Massaging your scalp with a crystal comb will activate blood flow and help you stimulate hair roots, resulting in healthy hair that grows longer and faster with a better texture. 


COMBING THERAPY
Think about what it feels like when someone brushes their fingers gently through your roots? Our gua sha will help you calm the mind and release tension after a long stressful day. Toxins will be eliminated from deep inside your body by stimulating the acupressure points and meridians on your scalp. When you relieve tension from your head it also releases stiffness in your face. Our Gua sha can also treat headaches or help with stress hormones (which have been linked to hair loss) and many other problems. 


BETTER ABSORPTION
of Le concentré
Combing deeply helps clean the surface of dirt, dead skin and dandruff, allowing Le Concentré oil to penetrate deeper beneath the skin.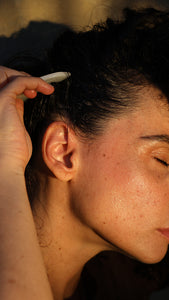 How to Use
- Start your scalp massage in the center of your skull at the front of your forehead hair line. Move from front to back all the way down to the base of your skull. Repeat this stroke 2-4 times.

- Next move to one side. Break it up into 2-3 sections, moving from the center down the side in a straight line. Repeat each section 2-4 times, then move on to the other side.

- Go back to the side you started on, break it up into 2-3 sections again, no moving in circular motions from the center down the side. Repeat each section 2-4 times, then move on to the other side.

Product Care

After every use gently wipe with a soft, clean cloth. For deep cleaning, wash with soap and water. Lay flat to dry. Never use harsh chemicals or cleaning agents. Product is fragile, so please HANDLE WITH CARE.
Recomended products
You might want to take a closer look.